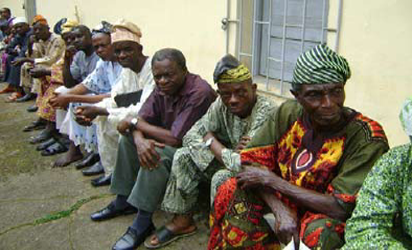 A cross section of pensioners
FOR Petroleum and Natural Gas Senior Staff Association of Nigeria, PENGASSAN, one of its major concerns as it marked 40th years as a trade union in Nigeria, is the legal system.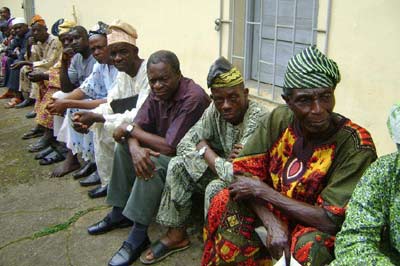 File Photo: Aged Pensioners waiting for their entitlement
While calling for a review of Nigeria's Labour Law, the body noted that the legal system posed a serious danger in the oil and gas industry.
Speaking at the association's 40th years anniversary celebration in Abuja, where it honoured some institutions and individuals "who have positively impacted on society beyond the call of duty", President of PENGASSAN, Olabode Johnson, lamented that the weak labour laws promote casualization and labour inefficiency in the country.
According to him: "Our Legal system equally poses its own danger in the sense that some labour cases drag for years in the court and the workers get weary or even die without getting justice for the wrong suffered. We appeal to the Government to look into our labour laws and strengthen the provisions to protect the contract worker in the light of contemporary challenges."
On the state of the economy, he said: "Be that as it may, the socio economic state of the nation remains our biggest challenge. Nigeria is a country richly endowed with natural resources and high quality human capital. However, issues of insecurity, ethnic division, infrastructural decay, nepotism, unemployment, impunity, illegal migrations, capital flight, abuse of power, and recklessness of some members of the political class continue to hinder the growth of our economy.
This current state of the nation is the direct consequence of the actions or inactions of the leadership class that has managed the affairs of the country since independence and if not positively addressed, major investments will continue to elude us as a nation.
"For the International Oil Companies, we have issues with the duration of contract jobs. Some of the contract employments are so short that one wonders how the employees will plan a life with such short term employments. Furthermore, the contractors are changed after almost every term and the workers face the issue of whether they will be dropped with the ending contract or be absorbed into the new one. This is why we implore the National Petroleum Investment Management Services (NAPIMS) to look into this and ensure that the contract worker is well protected.
"In the oil and gas sector, we engage the government on policies that will develop the industry. When it became glaringly clear that the country no longer derives maximum benefit from oil and gas operations, the Association collaborated with other agencies for the passage of the Nigerian Content Law to enable Nigerians to take ownership of the operations in the industry through the transfer of technical know-how and use of local raw materials. We were also resilient in the struggle to restore normalcy to the downstream sector in 2016.
"We supported the new Joint Venture cash call framework and the NNPC reforms. Currently, we are at the forefront in engaging the Executive and Legislature on the passage of the Petroleum Industry Bill."