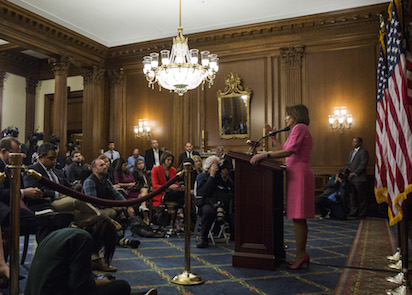 A Floridan Democrat Bill Nelson called Wednesday for a recount in his race for re-election to the US Senate against Republican Governor Rick Scott in the , United States elections.
The House Minority Leader Nancy Pelosi (D-CA) held a news conference following the 2018 midterm elections at the Capitol Building on November 7, 2018 in Washington, DC. Republicans kept the Senate majority but lost control of the House to the Democrats.

The race during Tuesday's midterm US election was one of America's most-watched, with the outgoing governor Scott mounting a tough challenge against three-time incumbent Nelson.
As of November 7 at 9:14 pm Scott narrowly led Nelson by 0.4 percentage points, with 99 percent of precincts reporting, according to The New York Times.
Marc Elias, a lawyer representing Nelson's campaign. Stated:

"A significant number of US election ballots have not yet been counted and, because of the size of Florida, we believe the results of the election are unknown and require a recount,"
The Nelson camp's statement said Scott had "prematurely" claimed victory on Tuesday, and cited media reports of balloting problems and other polling irregularities.
The statement explained state law requires a recount when the margin between candidates is less than a one-half percentage point.